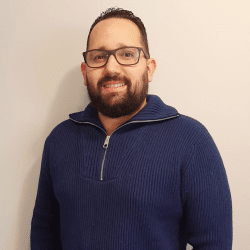 Jesus Sanchez
Senior VP of Infrastructure
Computer Engineer with 11 years of experience as a developer and 5 more years working with Infrastructure, I have a master's degree in business management that empowers my leadership skills and decision making; I also obtained the DevOps Foundation certification. I have a positive attitude to work as a team and find solutions to problems that arise within the organization. Programming and Infrastructure are some of my passions and among my goals are:
• Create useful applications that meet the needs of customers who use it.
• Obtain the necessary knowledge to develop and implement new self-management technologies.
• Create Ci/CD pipelines using Infrastructure as Code tools that will help with the stability of the applications.
• Maintain highly available applications across different public clouds.
• Create a work environment where my co workers and people lead by me have the opportunity to learn more everyday and feel appreciated.

• Be part of an organization that allows me to achieve my goals and that promotes the professional growth of its employees.
DOMAIN DRIVEN DEVELOPMENT