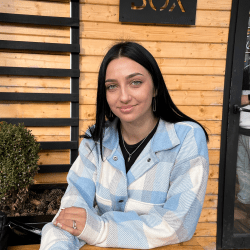 Liubov Storozhyshyn
Graphic Designer
Do you need a graphic designer? For ongoing, huge projects or simple tasks? Congratulations, you found me!
I have 3 years experience on graphic design, and 1 year on branding, so I will do everything possible and use all my skills to make you satisfied with my work.
My longest running projects:
Create brandbook for production of leather products (Ukraine)
Create logos and brandbook for big technical store (Ukraine)
That's what customers say about me:
📍 "Liubov is super talented, delivers on time and has the creative acumen that I have always looked for."
📍 "Amazing job! Would highly recommend Liubov to anyone. She's an extremely talented logomaker. Was willing to work with us until we perfected the minimalist logo"
My graphic design tools:
✏️Adobe Photoshop
✏️Adobe Illustrator
✏️ Experience in branding - creating a logo and identity
✏️ Experience with typography
✏️ Work with composition and color
✏️ Experience with typesetting and prepres
Looking forward to helping you realize your wonderful projects.