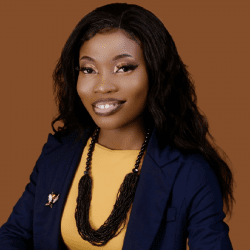 Oyindamola Ogunsola
UX Designer | Web Developer
I am Oyindamola Ogunsola,I enjoy creating solutions with technology through designs and coding.I believe everyone has great potential and should be looked out for.
I am currently taking a UX Design course by Google to launch my career in Ux design and prior to this I worked as a Frontend Developer
I have been privileged to work alongside people with different cultural background both remotely and on-site in order to create solutions to problems within our community both as a UX designer and Frontend Developer.
I am curious and relentless in learning to better myself and the community.
I enjoy meeting people online, listening to stories shared and giving insight and help when I can.
I have always admired how much one can do with technology and hence I thought myself to code after graduating and began my journey as a Web developer.On this path ,I found my love for Designing and dived into it.
I studied Computer science at The Polytechnic,Ibadan in Nigeria.
I'll love to hear from you.Write to me on [email protected]