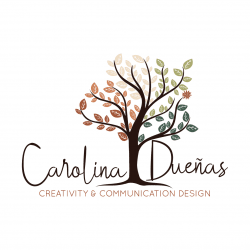 Carolina Dueñas
Graphic Designer - Creative Communicator
Hello!
I'm Carolina Dueñas, a communicator specialized in graphic design. I have experience in branding, web design, illustration, and other work for both print and digital media.
I consider myself a committed and hard-working person. I like to be creative, proactive, and enthusiastic to learn from new challenges. I have also worked in other areas such as digital marketing, planning and creating content for social media, blogs, web pages, engagement metrics, and results. I have skills and experience in customer service, oral and written communication, and teamwork.
I like to bring ideas to life and obtain a balance between creativity and communication since both image and message go hand in hand. I believe that graphic design is a tool that allows us to solve communication problems, through graphic solutions.
So, from this point of view, I do my work.