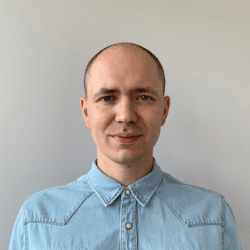 Roman Brus
Junior/Trainee Front End Developer
Date of birth - 16.05.1989
Currently, I work as a junior 1C programmer and write the final project in a team at the Front-end courses of the DAN-IT school (https://dan-it.com.ua/uk/program/kiev/front-end/).
Ready to grow and develop as a Front-end Developer, because I get great pleasure from JS coding, I can quickly learn new technologies and implement them in my projects.
Thanks to the previous experience, I acquired the following personal qualities and skills:
analytical mindset;
responsibility;
attention to details;
creativity;
ability to meet deadlines;
ability to work in a team;
ability to objectively assess one's abilities to solve the tasks;
focus on the result;
constant desire to learn new technologies and tools;
learned to write and analyze technical tasks in detail, to ask the right questions for the effective performance of assigned tasks.
I approach work with maximum efficiency.